The train run was wet and cold. We arrived on time (wow!).

Tuesday was load in. I had some work and chores to catch up on. I also walked to two nearby thrift stores to find high-waisted black pants (my costume vest this year is very short) and was lucky to find two pairs!

Wednesday was a dark day. I did some writing and some practicing, and descaled my coffee pot. There was a mall run around noon and I went just in case there were more black pants to be found. Regency Square Mall in Jacksonville looks good on the outside, but it was actually pretty depressing inside. It used to be a huge mall with an East and West end. Now the West side is almost completely closed...only the anchor stores were open.
There were a few Ingress portals around to keep me occupied. One was holding up several large fields, so I took it down :P
Opening day went well. We had a full run through beforehand. I received several packages, including a trombone solo I've been looking forward to and a box of dinosaur-shaped crayons from my sister!
On Friday we only had one show. You may remember that for Christmas I got a drone. My friend Applesauce also owns a drone (a much spiffier one) and offered to help me learn to fly mine! We came to the arena a bit early hoping to play on the arena floor, but the camels were practicing so we found a spot in the hall and got to work! First we tried out my drone. I was able to keep it from crashing (mostly) and Applesauce even helped me to take a video! (I wanted to post it here but it was kinda dizzying).

My drone has a short flight time, and it was dead within about 15 minutes. But I learned a lot more about how to control it. Next I'll have to see how far it can go!

Then we went outside to play with Applesauce's drone. He's invested quite a bit of money into a drone with it's own GPS system, capable of carrying a GoPro. I had brought my GoPro too, and took a photo as Applesauce (ok his name is James) was getting ready.
Everything's ready. Time to fly!!!Sorry about my idiotic commentary. I was tickled by the experience :P
It's hard to see the screen in my hand. Basically I was seeing whatever the drone was seeing. In this case, the Jacksonville Veteran's Memorial Arena and parking lot. See the big red dot on the ground? That's about where we were standing.
The drone was just a tiny speck in the sky (I circled it for you).
We were shortly joined by more sound crew. After admiring the drone for a bit they kidnapped Applesauce for a McDonald's run.
I went back inside to practice and have a little snack break before the evening show. Flying the drones was a lot of fun, and I hope to do it again soon!

Saturday was just another day...three shows, all of which went well. We had a color guard during the Anthem for the last show.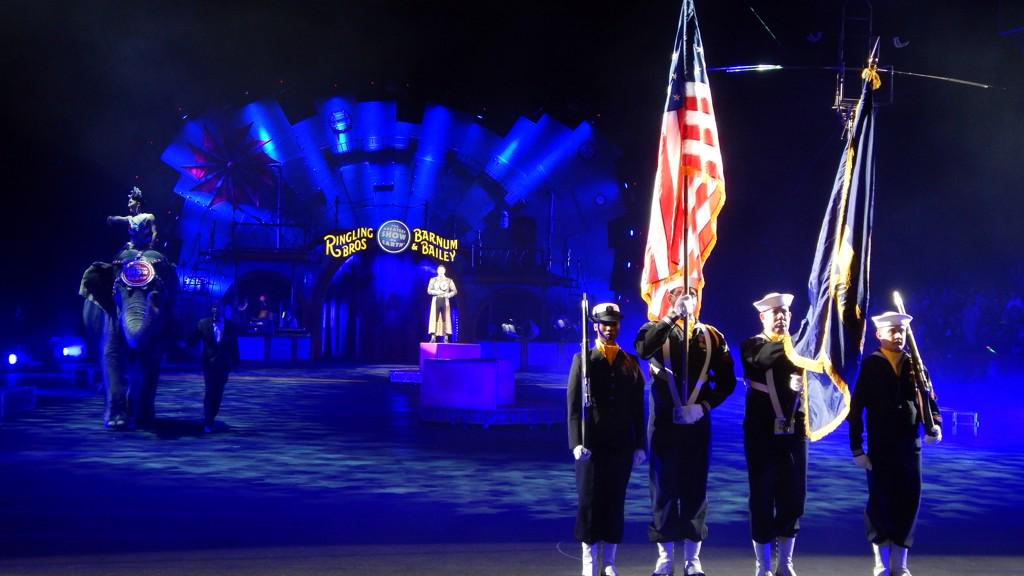 (photo courtesy jaxevents on Twitter)
Sunday was similar, with two afternoon shows. Jameson and I drove two hours to a FANCY hotel in Savannah!
He booked the hotel using points from Priceline, so our stay was free!!! Some unexpected luxury for us to enjoy on our way to Birmingham, AL!Other stuff:

We're getting some decent reviews on ticketmaster! (CLICK HERE and scroll down to read)
We've heard that the IZOD Center in East Rutherford is closing, but will still be open for us. I guess that's cool?
(CLICK HERE to read article)

Congratulations to Joshua and Thalita on their beautiful baby boy!!! Born "in the sawdust" :)
(photo courtesy Joshua)
Rebecca (wardrobe) and Big Ben (sound) picking their way through the muddy Jacksonville yard.
(photo courtesy Claudia)