It was a nice relaxing train run from Colorado to Missouri.
I saw a buffalo farm, lots of sheep, and lots of farmland :)
The elephant walk was supposed to be at 8:30am, but it was cancelled so I slept for another hour, then got up and cooked/cleaned. Elliana (human cannon) is FINALLY back from recovering from an injury!! AND she has a car! She graciously offered to drive me to a grocery and I accepted. She's from St. Louis, so she drove the long way to show me the State Museum, Library, Symphony, Hall, etc. We also made a stop at Pappy's Smokehouse...featured on Man vs Food and Discovery Channel, also voted one of the 101 best places to eat by the Travel Channel! Elliana picked up some food for the guys doing load in. I got a brisket salad (look at that, trying to make it sound healthy) and a bottle of Fitz's root beer, made locally.

On opening night Circus Harmony performed during preshow. Those kids are very talented!
The Friday morning educational show ended up being a wakeup call for half the band...during opening our bandstand was hit by one of the clown cars. It didn't hit us head on, but hard enough to move Tom's keyboards about a foot to the right. My fence of trombone cases got knocked over too. Good morning! Haha.
During the split between shows, I got to visit the St. Louis Arch! It had just been reopened that very day (had been closed due to the government shutdown) so I was able to ride to the top!

Views from outside:
See the little observation windows at the top?
From almost directly under the Arch:
People have scratched their names into the stainless steel near the base.
Because I went alone, I was pushed to the front of the line! Lucky me!
To get to the top, you ride a VERY tiny elevator-like object that seats five people.
It takes about four minutes to get to the top and three to come back down (gravity and all that).
The windows at the top were small, but the view was great :)
After that I walked around the park a little bit, then headed back to do the night show.
I rode my bike home. It was a really nice easy ride home, but boy was I tired!

Saturday came and went as usual, three shows.
On Sunday our shows were an hour earlier than usual,
so some of us had time to take a leisurely walk back to the train :)
All in all a nice week! I didn't get to see as much as I wanted to...rather irritated that I missed the City Museum as it looked like a lot of fun, and there was a cathedral that had some gorgeous mosaic art inside...well, they'll have to go on the list for next time!

Next is Cleveland, where we've got three one-show days in a row, followed by a six pack, followed by a Monday hangover. Sheesh. At least the one show days will theoretically give me time to explore!!!


Also this week:

Nicole Feld posted a picture of Blue Unit's 'Gateway of the Legends' under construction!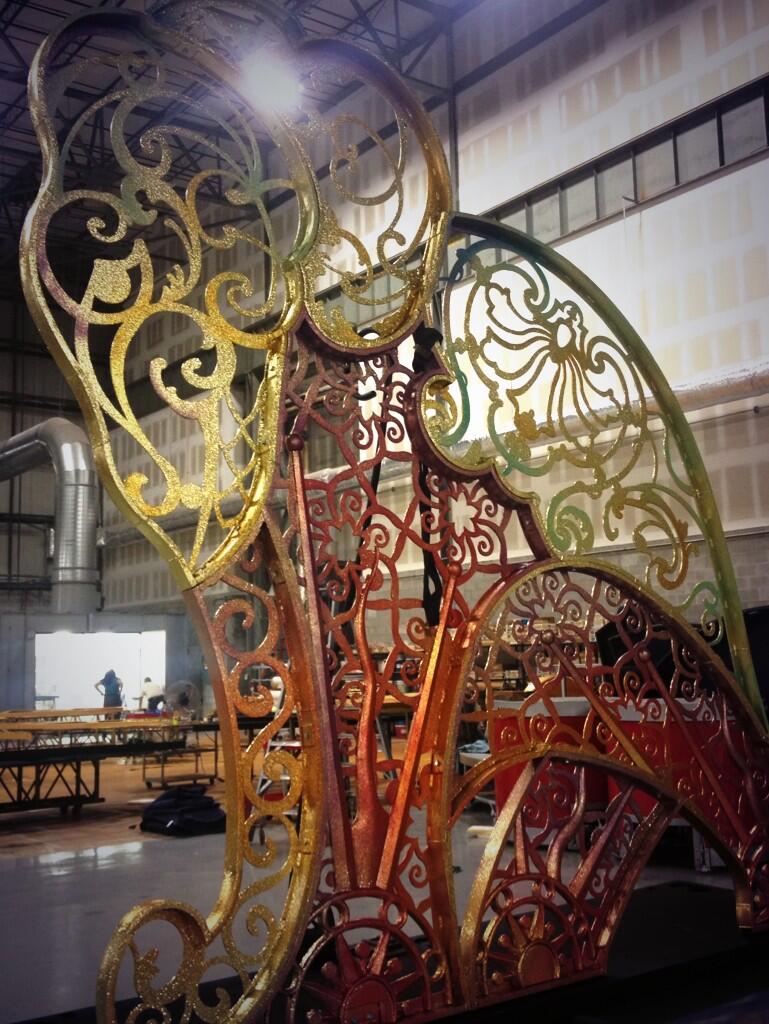 Once or twice a year, a guy named Timothy comes backstage and sells vintage Ringling items to us circus folk.
Among his wares this week was discovered a video of some Ringling contestants
appearing on Family Feud back in the '90s...
That's right, it's my boss, Brett! Lookin' smart answering those questions! Spiffy bow tie!